Technology Services at Adelphi
Browse highlights of what new students need to know about technology services at Adelphi.

Welcome to the beginning of your student experience at Adelphi University. Our Office of Information Technology (aka Adelphi IT) has prepared some essential information to make your adjustment as smooth, fun and easy as possible.
We encourage you to check out all of the resources available to you at Adelphi, and wanted to highlight some of the services that may be the most helpful to you.
---
Wireless Internet
Many of the services available for you to use on campus require an internet connection. We recommend that you take advantage of Adelphi's partnership with eduroam, a wireless provider that allows for seamless wireless on many college campuses worldwide. With eduroam, you only have to log in once, and after that you will automatically connect to the whenever an eduroam access point is within reach. 
---
eCampus
One of the most utilized services you will use at Adelphi will be eCampus.
With eCampus you can:
Access your student Gmail account
Use the functions in CLASS
Find your course content on Moodle
Search for jobs and internships
Connect to tech discounts for Adelphi students
Submit a housing maintenance request
Run a degree audit to see requirements for your major
On your My eCampus homepage you can customize settings so that your frequently used services appear in your Favorites.
---
CLASS and Moodle
CLASS and Moodle are two of the most useful resources you have at Adelphi. Some of the highlighted features of these applications are:
CLASS:
Course/Department Directory: Browse course offerings and number of seats available
My Financial Aid: Detailed financial aid information by semester
Make a Payment: Make a secure payment from your bank account or with your Visa, MasterCard or Discover
My Grades: View course grades by semester
In future semesters you'll also use CLASS to register for courses.
Moodle:
Access course information and assignments at any time
Participate in discussions with peers using the forums page within each course
Upload assignments easily
View events for any classes using the calendar feature
These features, along with many others are available to make things easier for you, the students. If you can't find your course on Moodle, talk to your professor to see if they are making the class available on Moodle. If you have problems with either service you can contact the IT Help Desk for further assistance.
---
AU2GO
The AU2GO mobile app gives you direct access to your Adelphi Gmail, CLASS, Moodle, Dining Services hours and locations, Panther Shuttle tracker, News and Events and much more. Here are some highlights of the many services available on AU2Go
Customizable Background: Choose from various Adelphi themed backgrounds as your homescreen.
Sortable Tiles: Put your favorites at the top of the screen.
Digital ID Cards: Can be used in Swirbul Library to check out books (Service Desk) and equipment (Help Desk), at the University Center Cafe, and at the Campus Rec Fitness Center.
Interactive Campus Map: Tapping on markers brings up a bubble with location name. Tapping on the bubble brings up the description of each location.
Study Sessions: Students can organize study sessions in the library based on a location they select on the library map.
Maintenance Repair Requests: Submit repair requests to Facilities and include pictures from your phone to better illustrate your issue.
Handshake for Career Opportunities: Now you can search jobs and internships on the mobile version of Handshake.
Biometric Login: Use your fingerprint to log in with compatible devices.
3D Touch on iOS: Users with a compatible iPhone can get a context menu preview of the 4 most popular tiles within AU2GO before clicking through.
Personal Push Notifications: Students can receive personal notifications about financial or academic actions they need to take by linking their Adelphi username directly to their device.
Don't forget to enable push notifications for AU2GO to stay up to date on Adelphi news and events, as well as any personal notifications you may need.
---
Google Apps and Adelphi Gmail
Your Adelphi Gmail account will give you access to Google's suite of apps. Many people are under the impression that Google is just used for search and Gmail, but they have many apps that make doing work simple and streamlined.
Google Calendar: Create and edit different events that you can share with other users. Very helpful to keep track of events and coursework you have, and makes it easier to collaborate with others.
Google Docs, Sheets and Slides: Productivity apps that allow you to create different kinds of online documents, share and edit them with others. Google Docs, Sheets and Slides are a great alternative to Microsoft Word, Excel and PowerPoint.
Google Drive: Cloud storage that allows you to create, edit and share files from any computer. Using Google Drive will give you access to any files you upload to the cloud, no matter what device you're using. All files created using Docs, Sheets and Slides are automatically saved to Google Drive.
Adelphi IT encourages all students to use Google apps for their work. In addition to being free with your Gmail account, having all of your work automatically backed up and stored in the cloud is an excellent feature. Anyone who has ever lost their data knows that you can never have too many backups.
---
Online Learning with Lynda
The Lynda.com online training portal is now available for free to Adelphi University students. Students have access to this highly-respected service to spur their learning and development, as well as get just-in-time help on subjects that include management, technology, digital media, web development, and much more. Courses are segmented so you can watch as little or as much as you want.
We recommend viewing the internet safety for students course offered by Lynda at your earliest convenience. It's a great playlist about cyber security, and has tips for how to stay safe online.
---
3D Printing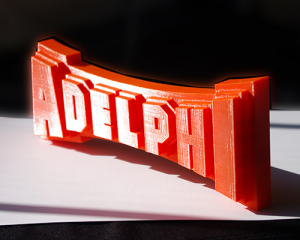 3D printing is an exciting new technology that allows people to create items in 3D from a digital file. Here at Adelphi, all students have access to the 3D Studio in Swirbul Library, where they can work with staff members to model, edit and create 3D pieces and bring their ideas to life.
If 3D printing sounds intimidating to you, don't worry at all. We offer workshops throughout the semester that will allow anyone, no matter your experience with 3D printing, to learn more about this exciting new technology. You can even schedule an individual appointment to work with someone if the next available workshop date is too far away.
Come by the 3D Studio in Swirbul Library whenever you get the chance to experience 3D printing firsthand.
---
Mobile Printing
Students at Adelphi have the ability to print using our mobile printing solution. This service allows you to use your own computer or mobile device to submit print jobs to various printers around campus.
To use this service, you will need to be connected to the Internet and access the Mobile Printing icon in eCampus under services. This service will work from any Internet connection, however, the driver print capability will only work from Adelphi's wired and wireless networks.
---
Cable/HBO GO (Resident Students Only)
Can't go a week without Game of Thrones? Do you need Silicon Valley in your life? We know that feeling, which is why Resident students here can access HBO GO using their mobile or connected TV devices (iPad, smartphone, Playstation, Xbox, Roku and more).
Students also have access to many cable channels in their residence halls.
Never worry about missing your episode and/or binge watch an entire season of your favorite show with Cable and HBO GO services on campus.
---
Move in Day
Moving in to campus housing should be easy, and we're here to help with the process. If you have any gaming consoles or other devices that you need help setting up on move in day, contact the IT Help Desk and someone will be more than happy to assist you.
---
Technology Discounts
As a student at Adelphi, you're entitled to discounts on all the latest tech from some of the biggest brands. We have partnered with Apple, Dell, InnovatePC and VarsityBuys to offer you an educational discount on both new and refurbished products.
Make sure to take advantage of these great offers to get the latest and greatest in tech!
---
Visit the technology service catalog for a full list of services available to all students.
There are also video tutorials you can watch to learn about how some of these services work, and to walk you through any trouble you might have.