2017 Community Reads Response Contest for First-Year Students
---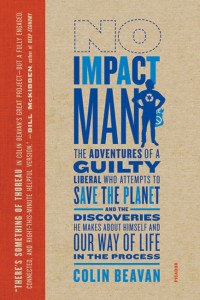 No Impact Man, the book, film, and social project of Colin Beavan, explore issues of sustainability, including:  
How do complex systems—economies, ecosystems, families—overlap, complementing, threatening, and otherwise influencing one another?
How is responsibility for the survival of a community attached to individuals within communities, whether they know they are members or not?
How do we, as a society, define justice and equity when not all people who share resources benefit from them equally?
Throughout the upcoming year, the Adelphi community will consider these questions within and outside of classes and, in discussions, exhibits, and events—including a competition to produce a Student Statement on Climate Change (September 23 and 24), our own No Impact Week (October 15-22), and a public talk by Colin Beavan, the author of No Impact Man (October 16).
We invite you to take up these issues with a response to Beavan's book, and on the theme of "sustainability," to be submitted for the First-Year Experience Committee's annual Community Reads Award.
Note:
First-year students do not need to purchase a copy of the book; a copy has already been purchased for you and will be given to you on Matriculation Day.
While essay responses are always welcome, this year we encourage submissions in other formats: a sculpture, a poem, a performed piece, a short documentary film.
Submissions will be considered for the award—a $250 gift card to Barnes and Noble—on their own merits. They should identify and pursue a clear purpose aware of the complexity and significance of the issues examined in Beavan's work, and attempt to advance a serious discussion about them. If referencing ideas outside of your own—i.e., using someone else's words, modifying someone else's theme, etc.—be sure to credit those ideas appropriately and in accordance with Adelphi's Code of Academic Honesty.
Interested in participating?
Please email your submission to fyec@adelphi.edu by Wednesday, November 1, 2017. Write "First-Year Community Reads Award" in the subject heading. Include your name, Adelphi I.D. #, address, and phone number in the email.
---
If you have an entry that cannot be submitted electronically, or with further questions about this contest, please contact:
First Year Experience Committee
Sarah Eltabib
Co-Chair
p – 516.877.3444
e – seltabib@adelphi.edu
Jennifer Walsh
Co-Chair
p – 516.877.3488
e – jwalsh@adelphi.edu
Submissions are encouraged but not mandatory. You should create one if you feel you have something to say.  We are confident that you do, and look forward to hearing it.